There's a war taking place across America between feral hogs and land managers. Feral hogs are an invasive species that cause economic, health, and habitat destruction – and there are approximately 9 million of them in the U.S. and that number is growing fast.
According to the U.S. Department of Agriculture (USDA), land managers are fighting this war that has now spread from 17 to 39 states. Texas is ground zero with the largest population of feral hogs, but the problem is concentrated largely throughout the Southeastern United States.
From crops destroyed to the spread of disease by feral hogs, they have become a real threat to agriculture. Experts at the University of Georgia estimate feral hogs cause land managers $2.5 billion worth of damage mostly by destroying crops, attacking livestock, and destroying native plants and habitats. It's an economic crisis for land managers.
The feral hog problem has grown so much that the government has intervened across parts of the U.S. to help land managers stop the invasion and reduce damages. The federal government is spending more than $30 million annually to fight the feral hog invasion. But without the right strategy, land managers will continue to lose the war – and the invasion and its destruction will continue to escalate.
The question is: how can the feral hog invasion be stopped?
According to Webster, an invasion or invading means to enter as the enemy – and nothing could be more true about feral hogs invading a landowner's land. To stop the invasion, land managers need two critical weapons.
Weapon One
The first weapon needed is an easy-to-move hog trap. Trapping is the most effective method used for sounder removal so the right hog trap makes all the difference. The most important characteristic is it's easy to move from one location to another. Here's why.
If the trap isn't easy to move, land managers typically stop using it. An easy-to-move hog trap keeps land managers on the offense to catch feral hogs. But not all traps are created equal so land managers need to use a hog trap that's durable, too. With a durable, easy-to-move trap, land managers have a serious weapon to stop feral hogs and the damages they cause. An easy-to-use, durable, and effective hog trap land managers should consider using is a Big Pig Trap.
"I used a Big Pig Trap on a property and caught 22 pigs on the 2nd night and caught another 11 pigs a week later, so a total of 33 in less than 3 weeks. Big Pig Traps are effective and easy to assemble and move."

– Mitt Wardlaw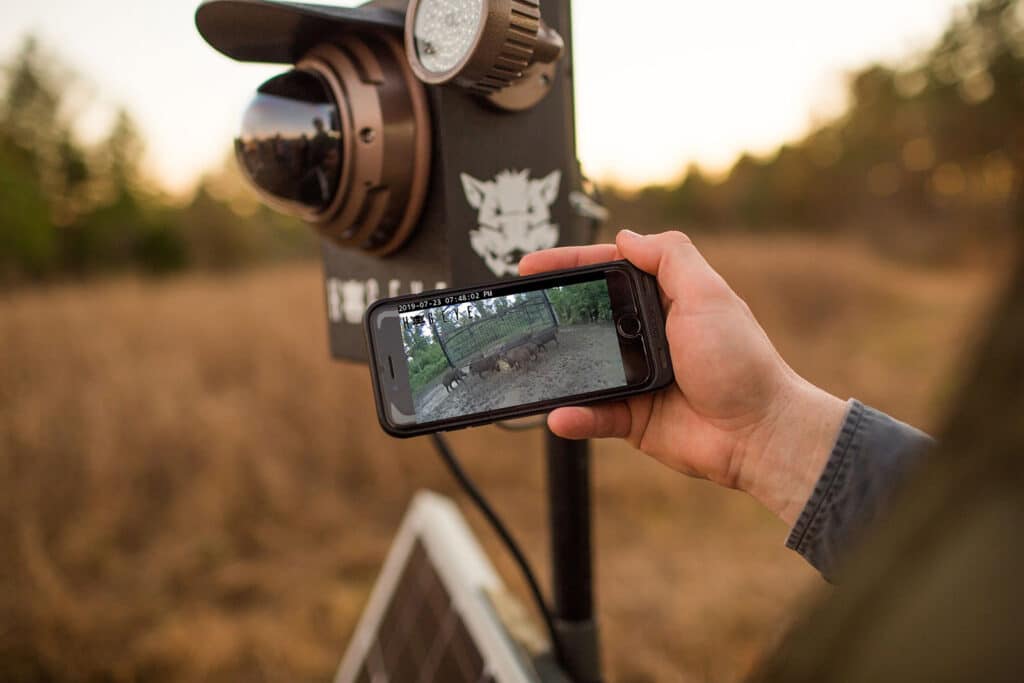 Weapon Two
But having a durable, easy-to-use trap isn't enough. Land managers also need another weapon. This time they need technology in the form of a live-video camera that works on their trap. Here's why.
Land managers need to be able to trigger their trap gate remotely 24/7 so they don't have to waste time and money manually monitoring traps. Land managers should consider using HogEye, a live-video camera that works on any hog trap. Land managers simply watch the live-video feed of their trap after receiving an app notification. When all the hogs are in the trap, land managers can simply use the HogEye mobile app to drop their trap gate.
Real-time, live-video trapping technology gives land managers the second weapon they desperately need to catch entire sounders instead of a few feral hogs at a time. HogEye makes hog trapping simple and effective. HogEye's sole purpose is to help land managers with trapping situations. HogEye helps thousands of land managers protect millions of acres of land from feral hog destruction.
I've used many different types of cameras assisting private landowners with trapping all across the Mississippi Delta. I can say without a doubt, HogEye is the best on the market.

— Jody Acosta, Delta Wildlife
Hog Trapping Made Easy
Combining a Big Pig Trap with the power of live-video from the HogEye Trap Camera gives land managers exactly what they need to stop the feral hog invasion. HogEye's sole purpose is to help land managers with their trapping situations. With a dedicated customer support staff, land managers can be shown how to effectively deploy HogEye and the Big Pig Trap to stop the feral hog invasion that continues to grow throughout the U.S.
At Big Pig Trap and HogEye Trap Cameras, we've made hog trapping easy. Here's how we can help you stop feral hogs in three easy steps:
(1) Call us at 888 PIG TRAP;
(2) We'll work with you to find the best trapping system to stop feral hogs; and
(3) Take back control of your land and stop your feral hog invasion.
Don't wait to take back control of your land from feral hogs. We understand feral hogs destroy your property and cost you thousands of dollars. We get it. We can help at bigpigtrap.com and hogeyecameras.com.